Should I Get Braces or Invisalign?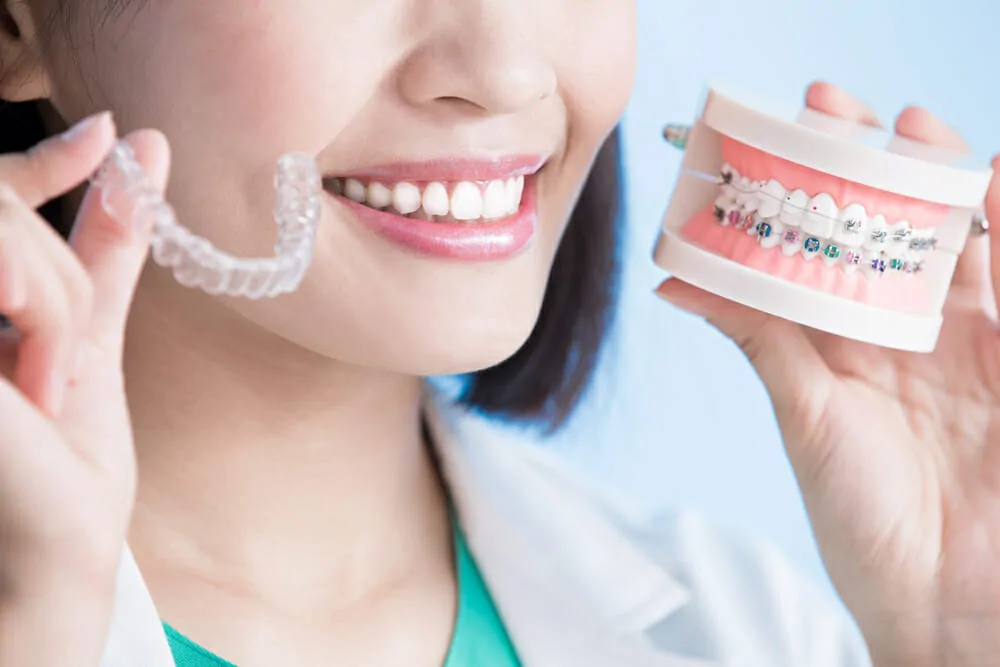 Being uncomfortable with your smile is sadly common. It's all too normal to wonder if you should do something about a noticeable gap in your teeth or a slightly crooked grin that you think everyone around you can see.
The good news is, it's never too late to seek orthodontic treatment! That's why we at O'Connor Dental Care want to educate you on the differences between braces and Invisalign. Being fitted for aligners is one of the most common cosmetic procedures we see at our clinic, and our patients always have plenty of questions about how it all works.
So if you've ever wondered: "should I get braces or Invisalign?" We have the answers for you right here.
What are the major differences between Invisalign and braces?
For decades, braces were the solution for correcting a dental imperfection. If you didn't wear them yourself, you surely remember friends in school who did. Mouths full of metal wires and colorful bands were a common sight for most teens growing up.
And then Invisalign came along.
Invisalign aligners became a popular choice over traditional braces since they're clear and barely noticeable to others. Unlike braces that typically comprise titanium alloys, nickel, chromium, and even gold, they make Invisalign of a patented flexible plastic called SmartTrack. They custom fit your teeth and are removable as desired, also unlike braces.
The average time a dental patient must wear their braces is five years. To achieve the same results, Invisalign only takes about 12 to 18 months.
Does it hurt to wear braces or Invisalign?
Both braces and Invisalign aligners are uncomfortable when you first wear them. After all, they both serve as orthodontic mouthpieces that slowly move your teeth to the desired position.
It's important to remember though that while braces and aligners may hurt at first, neither should hurt enough to make you rethink wearing them. Once you adjust to the feel of either, you will probably forget you're even wearing them.
This is a good time to remind you of one of Invisalign's most popular features: it's removable. Unlike braces, you can take Invisalign aligners out so you can eat, brush your teeth, and yes, for a brief respite if they're hurting.
You don't want to remove your aligners often or for too long, however, as that defeats the purpose of wearing them. We recommend our patients wear their Invisalign aligners for at least 22 hours a day.
If you're not dedicated to wearing them for this amount of time daily, you may have to wear them for an extended period, so closer to two years as opposed to 12-18 months. Or they may not provide the full results you want. Don't put yourself through that inconvenience; just keep your aligners in your mouth!
Can Invisalign help my smile?
Invisalign aligners can fix an array of dental issues, just like traditional braces. Invisalign mouthpieces can narrow spaces between your teeth, correct crowded teeth, and make your smile straighter.
In more serious cases, such as for extreme gaps, crowding, and unevenness, we may recommend braces as they are more apt for these kinds of misalignment issues.
If you're wondering if Invisalign will correct your particular dental need, we at O'Connor Dental Care can provide you with a consultation and give you our best opinion. Odds are, braces or Invisalign can be a great restorative solution for you.
Aren't Invisalign aligners expensive?
It really depends. Most dental insurances cover a portion of your Invisalign aligners, as they do with braces. Be sure to double-check with your dental insurance provider to learn their policy regarding cosmetic dental appliances.
Invisalign aligners are generally more expensive than traditional braces. This is because you're paying more for convenience, comfort, and appearance. As we mentioned, Invisalign is removable, unlike braces that adhere to your teeth until removed by your orthodontist.
They're also clear, making them much more subtle than braces. While everyone you talk with will see your braces, they likely cannot detect your Invisalign aligners.
Final verdict: It depends on your specific needs
Using braces or clear aligners for your teeth-straightening needs largely depends on the level of misalignment you're experiencing and other specific issues that need tending to. Your dental records, lifestyle, and personal needs also provide insight into your decision.
If you're considering braces or Invisalign for yourself or your kids, please contact us. We'll be glad to talk to you about our services and how they can make a difference in your smile. With the proper care, your smile can be perfectly straight and undeniably radiant.